Evergreen Heights Child Care Centre serves the community by providing quality and accessible child care to Norfolk County.
We believe that children are a gift from God. This is the foundation of how we approach child care at Evergreen Heights. The early childhood years are integral for children to become lifelong learners. Through nurturing and support, children are given the opportunity to explore, discover and grow. Families are valued as we collaborate regarding the growth of their child. Through biblical values, teachings and modeling, we strive to nurture respectful, empathetic, caring individuals.
For updates on events and notifications, please visit our Facebook page.
---
Join Our Daycare Team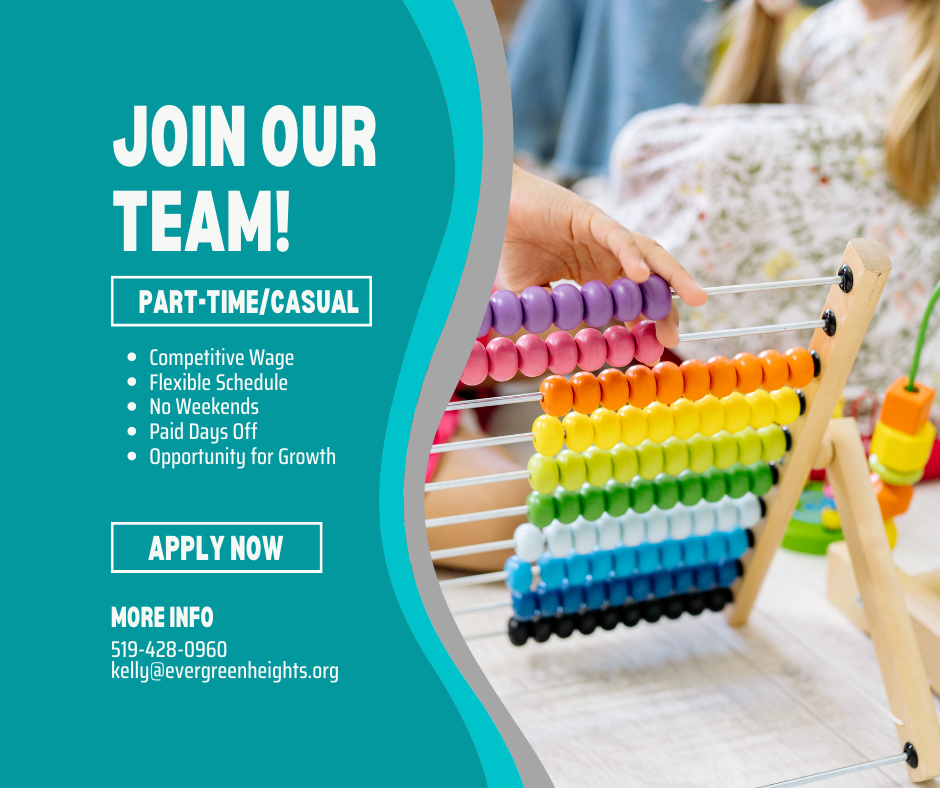 We're looking for casual staff to join our team!
Casual ECE application deadline: on-going
Click the link below for the full job description.
---
Learn About Our Programs
---
How do I register my family for child care?
To place your child on the wait list, please register your family on the Haldimand-Norfolk Child Care Waitlist (OneList) by clicking below.
---
Inclement Weather
It is our policy that when school zone one is closed we also close our daycare, in addition our parking lot is quite hazardous and we have not been able to provide a safe area for our families therefore we will be closed today. We apologize for any inconvenience. Please stay safe. Updates will be posted to our Facebook page.
---
Contact Information
If you'd like to speak with our Daycare Director, please contact:
Kelly Lubbers
Daycare Director
519-428-0960